Is it a Hit or Not?
This has turned out to be rather a long post. I think it will repay reading to the end as it may help as a case study for others.
Seems I have been sitting on something of a hit from almost the time I got started with 100k. Trouble is I didn't recognise it as such for a number of reasons:
This was the post that I had been using to practice FB ads and post engagements
Engagement rate was pretty low (<5%) though cost per engagement was pretty low – less than £0.02 (under 3c)
While I was getting traffic to the web site that traffic was not returning much money.
Here's the post insights:

Quick Insights Summary
Post has reached 192k people
Link clicks 5.2k
Engagement ratio – 2.7%
Likes 1.7k
Shares 503
110 comments – where appropriate I have engaged with these comments and replied or asked questions to keep the thread alive.
On the face of things the engagement is pretty poor. However, as I only pay for engagements I was not overly worried considering the reach, likes, comments and shares.
Fb Ad Manager View
When I look at FB ad manager I get a somewhat different view: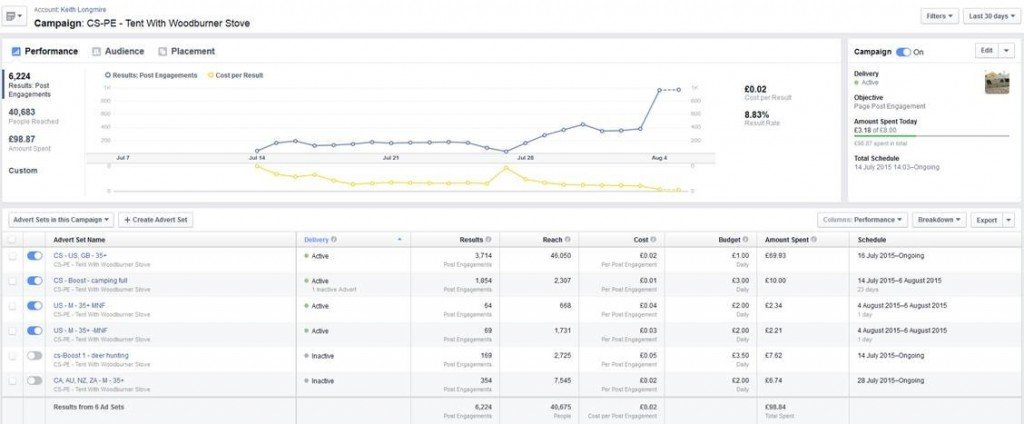 Almost 9% engagement (note most of these ad-sets are brand new and created in response to yesterday's workshop) and 6,224 engagement at a net cost of 1.6p per engagement.
As I mentioned, I had been using this as my sandpit and, until yesterday's workshop, hadn't really recognised what I had. The question was, why hadn't this translated to adsense revenue?
Looking at the ad again yesterday it was clear that 98% of all engagements came from mobile devices. While the link clicks had built up to around 500 unique visitors per day on the website (excellent for a site less than 1 month old) I wasn't getting the revenue. The best day had been about £2.00. RPM was showing as about £1.80 at best and sometimes around £0.50. It was not looking good.
Along Comes Workshop 8
Workshop 8 provided the key. I simply removed the Mobile Network Feed from the ads delivery. A few additional ads were added targeting different interest groups too but the major change was to stop delivery to the MNF.
The result. Yesterday's (Monday) unique visitor count doubled (for a part day) to over 1000. Adsense revenue went up by an order of magnitude to almost £20 (again for a part day) and RPM has gone up from around £1.80 (at best) to £9.00.
Today (Tuesday) (with the peak period still to come) I have received 1279 unique visitors and the adsense revenue sits at £11.76.
So ROI has been positive in the last 2 days :-). There is obviously a long way to go before ROI is positive overall but there are strong signs that things are moving in the right direction.
Conclusion
I guess the point here is, 'I didn't realise how successful that post had been because I had simply looked at the apparent engagement ratio. Looking behind the scenes in more detail helped to see that it was successful and not just my sand pit.'
Your thoughts would be very welcome.